For the past week I have been reading Geraldine Brooks's novel

People of the Book

. This book was first recommended to me by my aunt, then by Meredith, and then my friend Lauren. All of them were right and now its my turn to recommend this book to you.

Quick plot summary: an ancient, illustrated Haggadah (Jewish prayer book) is discovered in war torn Sarajevo in the mid 1990's. Hanna Heath, book conservationist is called in to examine the rare and beautiful find. She finds several items in the binding of the book that give clues to the book's 500 year history.

This book weaves seamlessly between modern day and ancient history. It is well-researched and informative, but not at all stuffy. We get to discover the past of the Haggadah and meet the people who helped form and create this work of art. I don't want to give too much away, because I want you all to read it so from here I'm going to tread as lightly as I possibly can. If you're worried about spoilers just stop at the end of this paragraph!

Here's a picture of the cover: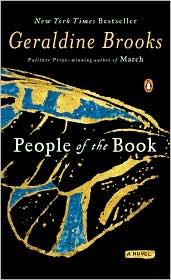 Since finishing the book about an hour ago, I've been thinking a lot about the title. Its really so clever - not only is this a book documenting Jewish history (the people of the book as in the literal Haggadah) but its also about the individuals whose lives somehow interacted with

this

book. Its about Jewish history, but its also about the actual literal people of the Sarajevo Haggadah. (...and time for a tangent, the coolest book I own is an old edition of Sir William Scott's

Ivanhoe.

I bought it at a thrift store in the Outer Banks and I have never read it, but just a few minutes ago, I opened up the front cover...its from 1911...how cool is that?!?!? Think of all the lives that book was a part of, even if only for a fleeting moment!)
The story felt really natural. Even though I didn't know a lot about what they were talking about, I never felt lost when it came to the story.

The women in this book are strong and well thought out. They reject a lot of typical conventions, which I like.
It wasn't too long, which was a breath of fresh air after reading my pal Owen. I didn't have to dedicate huge chunks of my life to reading in order to finish this book in a week...and
(to make this seem more round) Its based on a true story. For real! Look it up! I haven't had time to do any research on it (I was busy watching re-runs of The Office on TBS, trying to remind myself that Jim is a fictional character), but I will definitely look more into it. I love historical fiction, its just real enough that whatever happened in the book could have happened in real life.
Ok, I think I geeked out enough there. I can't wait to check out Geraldine Brooks's other books
Year of Wonder
and
March.
Find them at a bookstore near you!